Awnings (Commercial & Residential)
We build your stationary awnings in our shop
Awning construction of our awnings usually begins with a photograph and ends with a custom build awning for your home or business.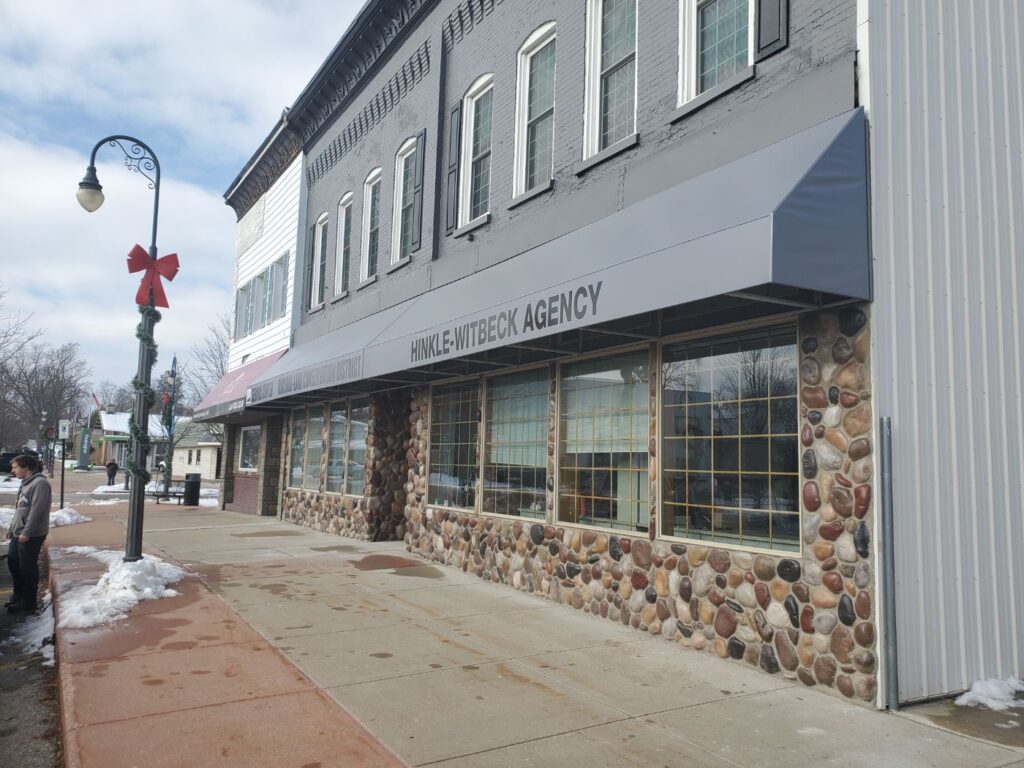 Each and every awning is custom-built utilizing aluminum and TIG welding. The method used for each panel is stapling.
We can give you a rendering of what the awning might look like before we make the awning.
We us Tempo Test fabrics for the majority of our awnings.  These fabrics are exceptionally strong and durable, in addition to having a wide range of amazing colors and patterns.
The advantages of the stapling system far outweigh the conventional sewn or laced systems. This system and modern advances in fabrics have dramatically increased the life of awnings and canopies. This method keeps and makes easy additions, removals, and fixes much easier.
We carefully consider the concept that lays behind every awning, ensuring it will stand up to the task of looking good for years to come.
We'll Make the Concept a Reality!
About Our Awnings
We use Aluminum staple in the tubing and then put the fabric in the channel of the tubing.  Then the Zip Strip is added afterward into the channel to keep the weather out of the channel.  Thus, preventing dry rot so the canvas will last longer on your awning.  Eventually, dry rot will happen (10-15 years if not longer) but it helps to keep the weather out.
The beauty of awnings is a metal structure with fabric or metal is used to cover the surface of the awning.  This can attach to a wall or poles to provide shade out of the sunlight.  There are many different types of awnings for different uses like retractable which are used for providing shade when you need it but retract when you don't for example over a porch or deck.  For our retractable awnings, we use NuImage Awnings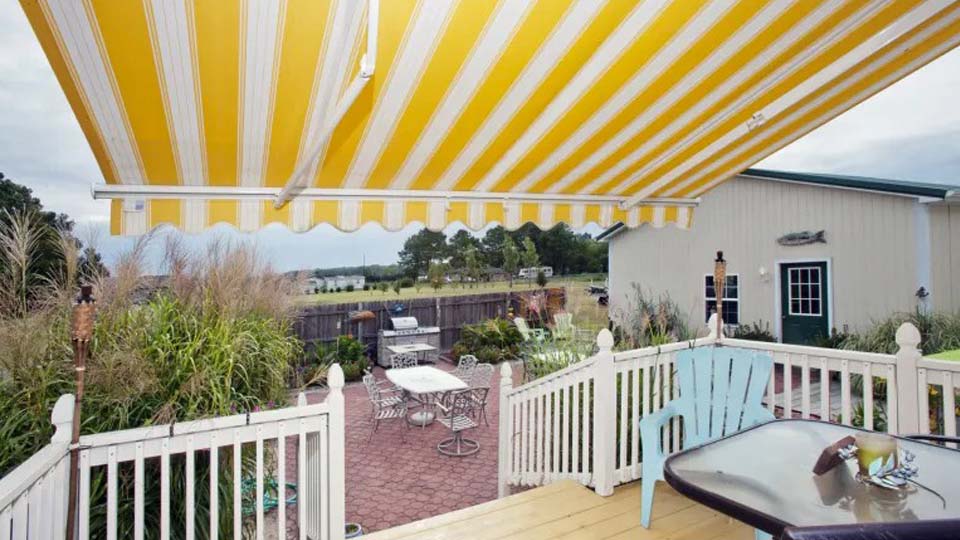 Our awnings are well constructed they are not made of cheap materials and they are built to last for a very long time.  Our NuImage retractable is still lasting today the only thing we have had to replace in some of them is the damage from the weather (when they were not retracted) or from dry rot which happens after ten to fifteen years you can usually see the early stages of it.
There are also stationary awnings that are built out of metal frames then fabric or sometimes metal is used to cover the outside of the frame.  We build these in our shop and transport them to their destination.  Which in some cases can be a bit of a challenge because some of them are so large.  We build our frames from Aluminum which does not rust it is lightweight yet extremely strong.  We are so confident in our frames that we give a lifetime warranty on them.  They can bend and flex yet go back to their original shape.  In even the most extreme weather we have seen our frames last through some very high winds, ice, rain, sleet, or even a minor Michigan earthquake.  Most of our awning customers come back to us because the homeowner or business owner just wants to change the look of them (different material).  Our most popular fabrics for awnings come to us from Sunbrella.  Sunbrella canvases that are made for awnings come with a ten-year warranty.  We love using their product because it is so strong, and we have many stories come to us from our customers to let us know how it stood up to some extreme circumstances.  One of our customers told us about the time his construction company was working on top of a building.  When one of his workers dropped a large cement block dropped from the top of the building.  Everyone held their breath when the block hit the awning and trampolined off the awning into the yard.  We don't recommend it in any situation performing this test however it did make us a lifetime customer because we build our projects so strongly.
This is just a glimpse into our world of awnings on our other pages we will give you an even deeper look at what you can expect to get out of our awnings.  What they look like and maybe a few images of awnings during construction.